Each year, the Electric Forest Festival in Rothbury, MI brings tens of thousands of music fans to rural Michigan. An entire city pops up seemingly out of nowhere to listen to jam bands and electronic music, and camp in the forest in Oceana County near Lake Michigan. This year's event takes place over a single weekend (previous events were multiple weekends) from June 27 to June 30, 2019, and features 3 nights of The String Cheese Incident, as well as ODESZA, Kygo, Bassnectar and Zeds Dead.
It also brings hundreds of uniformed cops and an undercover narcotics team looking to bust people primarily for selling or using drugs like cocaine, and all types of psychedelics such as ecstasy, LSD, mushrooms as well as pot brownies and edibles. Nitrous oxide balloons are also sometimes found for sale at the festival.
The atmosphere of trippy music and intentional vibe of weirdness does attract people looking to trip through the forest. And the cops know that.
But an arrest does not mean a conviction. In most cases, we can help you a avoid a criminal record for drug possession.
Arrested at Electric Forest? – Michigan Drug Laws are Tough – Get Legal Help ASAP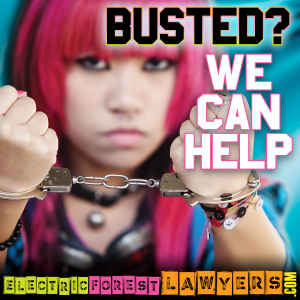 If you are arrested or charged with a crime at the Electric Forest Festival, you will be required to appear at Oceana County 78th District Court in Hart, MI.
Most substances that will get you busted at a music festival are considered Schedule 1 or Schedule 2 substances under the Michigan Statues.
While the maximum sentences of up to 4 or even 10 years in prison just for a small amount of drugs is an extremely frightening prospect, in almost all cases these scary punishments are avoidable.
I can often get you a diversion program under 7411 drug deferral (Section 333.7411), or and HYTA (Homles Youthful Trainee Act) if you are under 21.
Both of these plea options, if we can negotiate them, will help you avoid a criminal conviction on your record.
Felony Drug Arrests
Police will be looking hard for anyone selling drugs or illicit substances to charge people with felony drug possession with intent to deliver. With these serious offenses, you are at risk of many years in prison if convicted. You need an aggressive legal defense to protect your rights and your freedom.
I will immediately go to work try to find a way to suppress any evidence against you if there is any suggestion of an illegal search that violated your rights.
Other Charges in the Forest – Assault or Disorderly Conduct
In the close quarters of a party atmosphere for days, things can get a little out of hand. Common arrests will be for assault or disorderly conduct.  We can absolutely help with these incidents as well. Again, the goal is always to avoid a charge that will show up on a background check, and screw up your life.
Any conviction can cause problems for scholarships, job searches, apartment rentals, and other future issues. Our goal is always to avoid these problems and keep your record clean.
Out of State? Call me to find out how we can help smooth the process
Lots of folks travel from out of state to go to the Electric Forest. If you got arrested or received a summons or citation to come back to Michigan, that can be a real burden.
But you don't want to skip out on a criminal court date, or you will have a warrant out for your arrest, and the problem will just get worse.
I will work hard to minimize the number of trips back to Western Michigan that might be required to clear your case.
Success Stories from Electric Forest Arrest Cases
"I was arrested on the way to Michigan for electric Forest only like 20 mins from the border…I saw Brian's banner in the sky while at the festival. I contacted him after speaking with multiple attorneys and he was by far the most helpful and understanding. Even though he couldn't help me directly since it was another state he referred me to an attorney who showed the same amount of care. Thank you so much for flying that banner at the festival." – Anonymous

"I was arrested going to Electric Forest for possession and contacted Brian to see if he could help with my case. While he was not able to take my case as my trial was not in his area, he recommended me to a really good lawyer, Andrew Achey. He also offered me continued counseling if I need help during my trial. Brian went above and beyond to help me with my case. I am so thankful for his hard work and dedication. Thanks Forest Lawyer!" – Sarah
Don't ignore a criminal drug charge or just show up and hope for the best
For a reasonable fee, we can very often completely avoid a criminal conviction showing up on any background check.
Please call me today for a consultation on any criminal charge in Michigan, or visit ElectricForestLawyers.com for more info.